"Blades of Gory", Way to Die #110, is the sixth death to be featured in "Up With Death", which aired on December 16, 2009.
Plot
Mario was an aggressive amateur hockey player who had dreams of making it into the pros, but is currently playing in a city league. He checked everyone including his teammates. They hated him for that. He eventually got into a big fight with an opponent. They fell back and the razor sharp blade of the ice skate sliced Mario's carotid artery and he bleeds to death, ceasing his immature behavior during the hockey games, permanently.
"Mario never made it to the pros. But in the end, he sure left his mark."
Cast and Interviewees
Mario Barry - Himself (lead: intended victim)
Brian Papson - Ice Hockey Goalie
Joe DeRosa - Himself (Amateur Hockey Player)
Dr. Vyshali Rao - Herself (Cardiologist)
Trivia
This death is loosely based on a real-life incident in 1989 involving former NHL player and Buffalo Sabres goaltender Clint Malarchuk. Malarchuk was hit by Steve Tuttle of the St. Louis Blues and Uwe Krupp of the Sabres when the latter two chased after the puck. During the entanglement, Tuttle's skate blade hit Malarchuk's neck, severing his cartoid artery. Unlike Mario, Malarchuk survived the incident.
Another death loosely based on a real-life incident in 2008 involving NHL player and Florida Panthers Right Wing Richard Zednik, teammate Olli Jokinen (Panthers) got tangled up with Clarke MacArthur of the Buffalo Sabres and lost his balance in front of Zedník. As Jokinen fell, Zedník was skating past and his skate blade accidentally clipped Zedník's neck, slicing his common carotid artery open and causing it to spray a trail of blood onto the ice. Unlike Mario, Zednik survived the incident.
Also known as "Accident Complete" on the danish version.
It is the fifth segment in the German version.
In the Latin American version, has a *Bleep* censure about Mario's behaivor.
This is the second death of which only the CGI graphics show how the vicitm dies. The first one was Re-Tired.
Segment Nicknames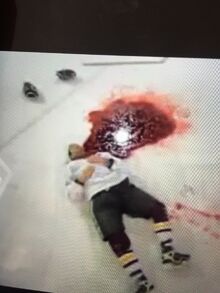 Foreign names
Patines Sangrientos (Bloody Skates) - Latin American dub.
Con los patines puestos (With the skates on) - Spanish dub.