"Blown Job", Way to Die #118, is the first death featured in "Dead to Rights", which aired on February 17, 2010.
Plot
Tammy was a workaholic. Her perverted boss, Mr. Eliot, knew that she had a lock in an upcoming promotion. Tammy was also addicted to energy drinks; she drinks Red Ram the most. Asking Mr. Eliot if he wanted anything else, he answered, visually, that he wanted to have oral sex with her. Despite her refusal, she thanks him anyway, and later tries to wash her disgust away with a few more drinks of Red Ram. Little did Tammy realize that she was going into a caffeine overdose. It's not until later when the new guy showed up and went into Mr. Eliot. Tammy took a peek inside the office, and saw that he was passing the oral test with flying colors and with Mr. Eliot. The new guy made no mistakes. The new guy walked to Tammy's office and announced that he got the job. This erupts Tammy's gasket like a volcano. After hearing that Mr. Eliot gave her promotion to the new guy, an enraged Tammy blows up in his face. But then, her over-caffeinated heart stops beating due to ten sixteen-ounce drinks of Red Ram, as well as cardiac arrest, and Tammy dies before she even hits the floor.
"Tammy was drinking herself into a heart-hammering caffeine overdose. Things got even worse when she saw the new guy slip into the boss's office. Something was up. Unable to resist, Tammy took a peek and discover the new guy was passing the oral test with flying colors. Tammy erupted. Her heart redlined and her blood pressure went through the roof, all fueled by 10 16-ounce energy drinks."
Quotes
Tammy (final words): "This is not right! This is not fair! It's not fa--"
Cast and Interviewees
Dr. Ramon Cestero - Trauma Surgeon
Khelsy Raymond - Tammy (lead:intended victim)
Trivia
Goofs
Continuity: When Tammy confronts with her boss before she dies, the door that she bursts into appears open or close between shots.
The energy drink can is actually Monster Energy Drink in disguise, albeit that it wasn't available until April 2002.
Segment Nicknames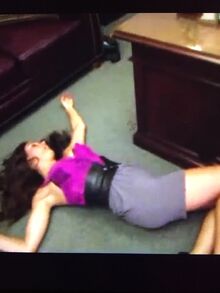 Foreing Names
Trabajo estresante (Stressful job) - Latin American dub
Por el disgusto (Out of disgust) - Spanish dub