"Bubbled Out", Way to Die #68, is the eighth Segment in Death On Arrival, which first aired on December 7, 2009.
Plot
Billy and Dave were brothers who daily test their roleplaying skills. Today they go to a small market to continue their roleplaying. When one of them sees some Mentos he explains to his partner that when Coca Cola comes in contact with Mentos it will erupt in an explosion. With the soda empty in seconds they consume all of the Mentos at once. The build up pressure in the stomach causes the soda to shoot out of their mouths and at the same time makes their stomach basically explode. As soon as the fountain of Coca Cola is over, the only thing that's left are their dead bodies.
Interviews
Stefan Timmermans - Sociologist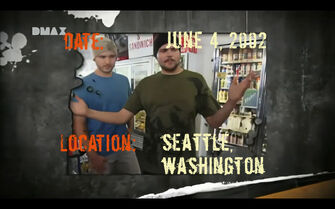 Foreign Names
Ausgeblubbert (Bubbled Out) - German dub
Trivia
This Way to Die is considered an Urban Myth and it is unlikely to Die in this Way. The Urban Myth is that if you eat mints and soda, your stomach will break.
There's no quote at the end of the segment in the German dub while there is a quote in the Italian dub..
It is the first deleted death of season 2.
According to a user named LootMurderer, an English version of this death was uploaded on Dailymotion in 2017. The video is now deleted. This made this deleted death the second deleted death to have an English verison. The first deleted death to have an English version is S*** Dead.