Way to Die #288
"Chippin' Dale"
Name of the death is a pun on the dance troupe Chippendales, the American politician "Michael Chippendale" and the tv cartoon characters, "Chip and Dale"
"Is there a lesson to be learned from all this carnage? If you're this stupid, maybe you deserved to die." (US Version)

"Is there a lesson to be learned from all this carnage? Yes, there most certainly is: Don't put your feet into a wood chipper." (UK Version)

Date
August 11, 2003
Location
Sonoran Desert
Yuma, Arizona
Episode this death
was featured in
"Unforced Errors"
Deaths
Previous
"Hang Dunked/Mail Order Fried"
Next
"De-Faced"
"Chippin' Dale", Way to Die #288, is the second death to be featured in "Unforced Errors", which aired on February 8, 2009.
Plot
Tiny and Dale are two tree removal workers clearing brush in the 110-degree heat of the Sonoran Desert. It's a dirty job, but someone's got to do it; they just wish it wasn't them. They get the last of the branches to the top of the hill and the last job before heading home: chipping the branches. However, the last branch gets stuck. The two are anxious to get home, sip a case of cold ones and catch a cage match back at Tiny's. Dale tries shoving the branch through with his feet, and in the process, learns the hard way: a machine made to destroy tree limbs can also destroy human limbs. Dale is sucked into the chipper, until he is reduced to nothing more than ground chuck/minced meat, much to the horror of Tiny as he gets a blood shower from his shredded remains.
Interviewees
Dr. Khyber Zaffarkhan - Physical Medicine & Rehab
Trivia
Segment Nicknames
Wood Shredder
Chip N' Dale (The Deathies)
Foreign names
Triturando a Dale (Grinding Dale) - Latin American dub
Por las Ramas (For the Branches) : Latin American dub (The Deathies)
Picadillo a lo Dale (Mincemeat of Dale) - Spanish dub
Restlos kleingekriegt (Completely small) - German dub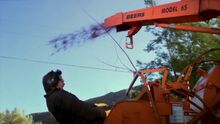 Community content is available under
CC-BY-SA
unless otherwise noted.