Way to Die #730
"Colon-gross-opy"
Name of the death is a pun on "colonoscopy" and "gross"
"Sandra was a tomboy who tried to go toe-to-toe with the guys. But when it came time to let it rip, she filled it up, and blew out her own... gas-ket."
Date
August 18, 1995
Location
Denville, New Jersey
Episode this death
was featured in
"Dirt Nap"
Deaths
Previous
"Dough!!!"
Next
"Die It"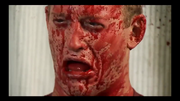 "Colon-gross-opy", Way to Die #730, is the seventh and last death featured in "Dirt Nap", which aired on November 7, 2011.
Plot
Roommates Sandra (Anne McDaniels), Mike and Jeff have passed time away with contests, from beer-bonging and burping to nitrous-sucking. Sandra, who grew up with her three older brothers, is the most-competitive. However, she always ends up losing to Mike and Jeff lately. One day, a farting contest is announced. Mike and Jeff are out to buy beans and broccoli for the event. Sandra, thinking up a plan to cheat, sticks the tip from an unused whipped cream can, left over from the "whip it" contest, up her colon to blow the compressive gas. However, her plan backfires when the nitrous oxide gas from the can causes quick freezing and immediate necrosis of her intestinal tissue, resulting in swelling and massive hemorrhaging. Holding on to her stomach, Sandra dies on the couch, with her colon spewing blood on her coming-back horrified roommates. Mike is left "COVERED IN ASS BLOOD!"
Cast and Interviewees
Anne McDaniels - Sandra (lead: intended victim)
Brent Chase - Mike (lead)
Jesse Welch - Jeff (lead)
Rhonda Fenn - Herself (Sex Therapist)
Dr. Boyd Flinders - Himself (Surgeon)
Segment Nicknames