"Contact Die", Way to Die #270, is the second death featured in the episode "Killing Them Softly", which aired on March 9, 2011.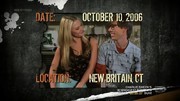 Plot
A college student named Katie attempts to seduce her nerdy science classmate, Marshall, in order to get good grades. Katie distracts Marshall while he is mixing ammonia and hydrochloric acid. As she leans over the flask, the gases fuse her contact lenses to her eyes. In a panic, she runs out of the classroom and spots an eyewash station nearby. She trips over the cord of a janitor's buffer and slides down the wax floor, colliding into a wall which breaks her neck and cuts off her respiration. Marshall comes in and sees his beloved Katie lying dead in the hallway. He sadly says, "Katie."
"Katie was about to learn a valuable chemistry lesson. Don't flash your headlights when your horny lab partner is mixing ammonia with hydrochloric acid."
Cast and Interviewees
Bayley Brunnmeier - Katie (lead: intended victim)
Jake Krickhan - Marshall (lead)
Dr. Ava Cadell - Herself (Sex Therapist)
Dr. Vyshali Rao - Herself (Cardiologist)
Trivia / Goofs
Also called "Blinded Me With Science" on the Spike TV website, which is a reference to the song "She Blinded Me with Science" by Thomas Dolby.
Although, Bitch Zapped has the victim gloating at his dead wife, Marshall was not gloating at Katie's death like Ron did. Marshall really cared about Katie but feels depressed and sad after she died.
Continuity: Katie trips over the cord of a janitor's buffer, which reappears reattached to the socket in a subsequent shot.
Segment Nicknames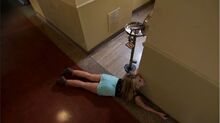 Blinded Me With Science (Spike TV)
Foreign names
Contacto Fatal (Fatal Contact) - Latin American dub
Ojo con esa esquina (Watch out for that corner) - Spanish dub
Lente de Contato Permanente (Permanent Concact Len) - Brazilian dub