Way to Die #151
"Crack Piped"
Name of the death is a pun on "crack pipe" and "piped"
"Henry and Orson thought they had an airtight plan for the perfect crime. But then they got greedy, and instead of getting rich, they ended up...paying the piper."
Date
January 2, 1903
Location
New York, New York
Episode this death
was featured in
"Grave Errors"
Deaths
Previous
"Coffin Nailed"
Next
"Photo-Dead-Ick"
"Crack Piped" Way to Die #151 is the third death to be featured in Grave Errors, which aired on March 2,2011.
Plot
On January 2, 1903 in New York, two tunnel-working scam artists named Henry and Orson are attempting to exploit the pneumatic tubing systems of the early banks by cutting one of the tubes in a block of wood to catch the money capsules. As more capsules back up in the line and pressure builds, they attempt to pull the block out, causing the pipe to explode and inflict fatal shrapnel injuries to them. As for these two working scam artists, instead of getting rich, they are sent to hell as they deserve.
Interviewees
Gene Ruebsamen - Robotic Engineer
Trivia
Segment Nicknames
Tube Much Pressure (Spike TV)
Gallery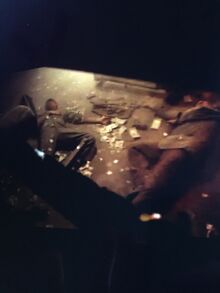 Community content is available under
CC-BY-SA
unless otherwise noted.