Way to Die #568
"Dead Me Stallion"
Name of the death is a pun on "dead to me" and "stallion"
"For once in her Life, Denise wanted something unusual and that was also it." (German Version)

"For Deniece, Life Was A Horse To Her. But She Didn't Catch It." (French Version)

Date
May 5, 2009
Location
Ojai, California
Episode this death
was featured in
"Dead on Dead"
Deaths
Previous
"Mile Die Club"
Next
"Polly Want To Crack Your Spine?"
"Dead me Stallion!", Way to Die #568, is the eighth and final segment featured in the Episode "Dead on Dead" that was aired on February 24, 2010.
Plot
Deniece hasn't seen her best friend Charline in a long time and decides to spent some time with her. Since Deniece is interested in Horses they went to a Barn. While inspecting Horses, she tells Charline that she's done with her Boyfriend Rob. His penis was too small. So Deniece asks Charline if she knows someone with something big. She comes up with the idea of doing it with a Stallion. At first she refuses to do it, but eventually she tries it out. After seconds of the Horse riding her she falls dead on the floor. Because the Horse's penis is 60 centimeters long, it kept damaging the Uterus, which is well supplied with blood, and she falls dead to the floor.
Interviews and Cast
Aurora Snow - Pornstar
Nance Tapley-Peck - Horse Trainer
Dr. Lydia Lam - Trauma Surgeon
Nicole Remender - Deniece (lead: intended victim)
Martha Regensberg - Charline (lead)
Foreign Names
Mach mir den Hengst! (Dead me Stallion) - German dub
Жылқы жынысы (Horse Sex) - Kazakh dub.
Trivia
This Segment is most likely based on the Death of Mr. Hands (Kenneth Pinyan) who died in 2005 after having sex with a Horse.
It is the last deleted death of the show.
It is also the only deleted death to be shown in a intro.
It replaces Tree Mugger.
In The Kazakh And Turkmen Version, This Death Happens In 4 June, 1998, And It Takes Place In Riverside, CA.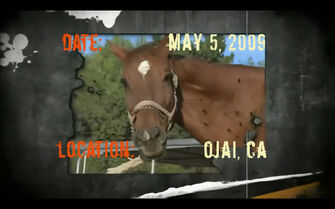 Community content is available under
CC-BY-SA
unless otherwise noted.