"Die-brator", Way to Die #342, is the seventh death featured in "Fatal Distractions", which aired on October 5, 2010.
Plot
Freda is the misandristic, sadistic, hateful, psychotic, delusional, Machiavellian, ruthless and sociopathic leader of a fringe feminist party and hate group known as the Centuries of Womyn (COW for short), who are notorious for their sexually violent crimes against men. Freda likely had a plan to perform gendercide, to wipe out men for good.
She returns home from a seminar to find a vibrator from her lesbian lover, unaware that it's really a 1000-kilovolt taser that resembles a vibrator. (The COW members referred to the taser as a "manswer")
After inserting it into herself and activating it, the taser electrocutes Freda, causing her to go into cardiac arrest, finally shutting her sadistic mouth up, and sending the extremely unlikable and evil feminist leader to Hell where she belongs and marking the beginning of the end for the COWs.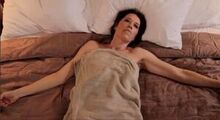 Cast and Interviewees
Elina Madison - Freda (lead: intended victim)
Orsolya Dunai - Herself (Feminist)
Dr. Pavel Bindra - Himself (Electro Physiologist)
Trivia
This death is also known as "Pink Tingler" on the Spike TV (now Paramount Network) website.
The scrolling text at the bottom part of the screen during Orsolya Dunai's interview reads "Blah...blah...blah..."
This is one of two deaths to take place on May 1, 1998, the other being Way to Die #64.

This is one of the many deaths to take place on May Day.

COW could be a parody of NOW (National Organization for Women).
COW is derived from the word (cow); which, in this case, means an unpleasant person or thing.
Segment Nicknames
Foreign names
Vibrador letal (Lethal Vibrator) - Latin American dub.
Muerte vibrante (Vibrating death) - Spanish dub.
desvibrador (de-vibrator) - Brazilian dub