Way to Die #487
"E-I-E-I-Oww!"
Name of the death is a pun on the Old MacDonald Had a Farm lyric, "E-I-E-I-O" and "OWW!"
"You hear the one about the two juveniles who were sentenced to work release on a farm? They messed around and threatened the farmer's daughter until one of them accidentally killed himself with a cattle bolt pistol! Ha! That's a good one!"
Date
June 1, 2005
Location
Pullman, Washington
Episode this death
was featured in
"Eat, Pray, Die"
Deaths
Previous
"M-R-Ouch!"
Next
"Recep-Shunned"
"E-I-E-I-Oww!", Way to Die #487 is the fifth death to be featured in "Eat, Pray, Die" which aired on August 8, 2011.
Plot
Steve and Jerry are two delinquents sentenced to 60 days on a work release program on a farm after being caught for grand theft auto. While working in the barn, there was a lot more fooling around than working; Steve also almost kills Jerry with a pitchfork. Steve finds and picks up a captive bolt pistol, thinking it is a pump to a milking machine. The farmer's daughter shows up to keep them from hurting themselves and warns him not to play with it, but Steve points it at her saying that he wants milk. Still thinking that it's a pump, Steve uses the captive bolt pistol on his own chest, piercing his heart, resulting in death by massive blood loss, sending the grand theft auto farm worker to hell.
Cast and Interviewees
Ray Cosico - Steve (lead: intended victim)
Andre Myers - Jerry (lead)
Megan Albertus - Farmer's Daughter (lead)
Ray Chao - Himself (Juvenile Parole Officer)
Randy Stanger - Himself (Cattle Rancher)
Segment Nicknames
Foreign names
Como vaca en el matadero (Like a cow on the slaughter) - Latin American dub
IA-IA-OW (E-I-E-I-OW) - Brazilian dub
Zu Tode gebolzt (Bolted to death) - German dub
Trivia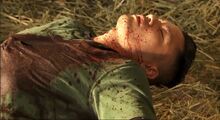 Community content is available under
CC-BY-SA
unless otherwise noted.