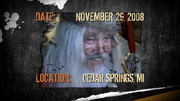 "Eye-Sick-Kill", Way to Die #247, is the last death featured in the episode "Dead Before They Know It", which aired on March 23, 2011.
Plot
Perverted stoner Paul works as a mall Santa, only to be fired after the manager finds out that he had sexually harassed two female co-workers working as his elves. When the manager storms out, Paul tries to get his attention by banging on the door. When he looks up, Paul is impaled through the eye by a falling icicle that pierces his brain, killing him instantly and sends him to hell where he belongs. The elves despite wanting him out of their lives freak out over his cadaver.
And took a large icicle right to the eye.
Trivia
Also called "Silent Night" on the Spike TV website.
This death is likely based on numerous deaths from falling icicles, including the case of five people from Samara, Russia dying in this fashion in 2008. As well as in Italy in 1991
This icicle accident was based on a similar death scene from Black Christmas.
The reading of this story is a parody of the poem A Visit from St. Nicholas.
Transcripts