"Forked-Up", Way to Die #714, is the second death to be featured in "Death On Arrival", which aired on December 6, 2009.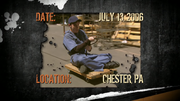 Plot
Two very lazy workers, Bernie and Cesar, decided to get high at work. Marijuana for breakfast. One morning, they get so high Cesar decides to drive a forklift around while Bernie is tied behind on a scooter with rope tied around his waist. Unknowingly the rope gets stuck under a car wheel. Cesar doesn't notice because he is listening to music. The rope tightens harder and harder around Bernie's waist and eventually he is split in half, exposing his intestines. Cesar eventually notices the corpse's upper half, much to his horror.
Now you know why work and play don't mix.
Transcript
Narrator: Many in the modern day work for start off each day with the healthy bowl of...
(2 workers smoke joint)
Narrator: high grated marijuana.
Cesar: (Coughs)
Narrator: For Bernie & Cesar, this was their "breakfast" of champions.
Cesar: Wow.
Narrator: But when some workers get high on the job, they don't work...
(After getting high, this is the result...)
Bernie: Woooooo !
Narrator: They play.
Bernie: YEEEAAAAAHH ! (Laughs) Woooohoooo !
(Cesar drives the forklift around while Bernie belts the rope around his waist for fun like water skiing)
Narrator: A rope and a forklift, as all these 2 need to get laidly.
Bernie: YEEEAAAAAHH ! (Laughs)
(Cesar air drumming while driving)
Narrator: While Cesar was digging his latest mixtape, the rope stopped.
(The rope gets stuck under a car wheel)
Bernie: (Moans)
(The rope tightens around Bernie's waist)
Narrator: The forklift didn't.
(Bernie bleeds out of his mouth)
Narrator: And Bernie, was caught in the middle.
(The rope tightens harder and harder, until it snaps. Cesar looks back, horrified, as he sees Bernie... is split in half)
Cesar: (SCREAMS)
(CGI human with the rope tied around the waist, tightens)
Dr. Dale Prokupek: If somebody has a rope around their torso and the force is so great that you actually severe your torso, all the gash and tesprocontens are just ran out and fly everywhere,
(The body splits with all organs exposed)
Dr. Dale Prokupek: ...so all the picromatter, all the intestinal juices, all the half digested food, you gonna have about 70 gallons...of gog. Just splattering everywhere.
(Recap, Bernie smokes the joint)
Bernie: (Coughs) Woooooo !
Narrator: Bernie and Cesar thought getting high at work was fun.
(Bernie splits in half)
Narrator: What do you think now, Bernie?
Cast and Interviewees
Ray Chavez Jr. - Cesar (lead)
Dr. Dale Prokupek - Gastroenterologist
Sister segments
Trivia
The two people were possibly named after former NFL quarterback Bernie Kosar.
Cesar's forklift looks identical to the HVY Forklift Utility from the Grand Theft Auto series.
Bernie's death is similar to that of Cuddles's death in Happy Tree Friends episodes, "I Get a Trick Out of You", Handy's death in Happy Tree Friends episodes, "Blind Date", and Ted's death in Half-Offed.
This is the only non season 1 death to use the season 1 death card sound.
Bernie's moaning sounds like An Elder Scrolls Legend: Battlespire's moaning sound #245 & #421.
Goofs
The forklift has a wing mirror. Didn't Cesar just look at he mirror instead of turn back?
Bernie was bending back before he split, but when the rope snapped, we can see that he's bending in front. We can see him as dummy.
Segment Nicknames
Foreign names
Pinchado con una horquilla (Poked with a fork) - Latin American dub
Partido en dos (Cutted in two) - Spanish dub
Abgeschnürt (Cut off) - German dub
Tranche en deux (Sliced in Half) - French dub
Suryat ma Silagan Morta as Bala (Death for Half Slice in Worse) - Lazoran dub
Gallery