"Fur Burger", Way to Die #112, is the fifth and last death to be featured in "Hard Lives, Easy Deaths", which aired on May 21, 2008.
Plot
One method of execution is that the victim had to wear a fur coat, be tied around a tree and then get eaten alive by whatever comes his/her way (in this case a flock of vultures.)
Trivia
This is the shortest death of the entire series.
Just like Dive Bombed, the death number is shown both at the beginning and at the end of this death.
It is the last pilot season death.
This is also the oldest death in the pilot season and the whole of the entire season 1.
This death has the second shortest doggerel quote, the shortest being Way to Die #753
This is the last death to have a drawn kill screen
This is the last death to be narrated by Thom Beers.
Segment Nicknames
Foreign Names
Wenn der Geier zweimal hackt (When the Vulture Chops twice) - Alternative German Title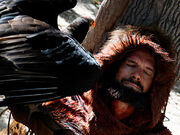 Ptasi burger (Bird Burger) - Polish voice-over