"Gooed Riddance", Way to Die #802, is the sixth death to be featured in "Today's Menu: Deep Fried Death", which aired on December 8, 2010.
Plot
A group of women who met at summer camp when they were fourteen have a ten-year reunion, curious to see what their lives would be like. Besides their love of alcohol, they were still the same young girls at heart. All of them played pillow fight, except for one obnoxious woman named Carly, who became a mean girl and wants nothing to do with her childish friends anymore. They then play "chubby bunny" and Carly wins just as before. However, the marshmallows melted in her mouth due to body temperature and collected in her trachea, choking her to death.
"She was drowning again. But this time, there was nothing her friends could do about it."
Cast and Interviewees
Brittany Sisk - Carly (lead: intended victim)
Dr. George Fallieras - Himself (Emergency Room Physician)
Emme Marie - Slumber Party Girl #3
Judalina Neira - Slumber Party Girl #2
Denise G. Sanchez - Slumber Party Girl #1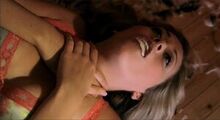 Trivia
Segment Nicknames