"Greased Is The Word", Way to Die #89, is the fifth death to be featured in "Up With Death", which aired on December 16, 2009.
Plot
Gomer, a parolee let out after doing time for a failed stick-up attempt, plans his next attack to be on a jewelry store. To prepare for it, he puts on a fish-net mask and takes out his gun. However, due to the mask blocking his vision, Gomer ends up walking into the wrong store. Even worse, the store he was in was a gun shop, and Gomer was shot to death by the clerks and customers inside when he pulls out his gun. They shot him multiple times until he received a fatal shot to the heart, with death becoming instantaneous, ending his final stick-up attempt as a failure as he is sent to the hell he deserved.
''Gomer's last stick-up was his last act on earth, but his fame lives on. On the internet, the gun shop security cam video has two million hits and counting."
Cast and Interviewees
T. Ryan Mooney - Gomer (lead: intended victim)
Carey Fox - Gun Shop Owner
Mike Tristano - Himself (Weapons and Firearms Expert)
Dr. Steven Burstein - Himself (Interventional Cardiologist)
Joana Green - CIerk (lead)
Goofs
Although this is set in 2001, there is a large shop saying "Blu-Ray". Blu-Ray wasn't announced until 2002.
Trivia
David Zaback died the same way except he didn't put a pantyhose over his head and he wanted to rob the gun store. David's death happened in Washington state in 1990.
When this way to die was filmed, they used a paintball gun, and the actor who played Gomer (T. Ryan Mooney) danced while the gun fired. This is known as the "Paintball Dance".
In the German Version of "Up with Death", this Segment is not featured and is instead replaced with Way to Die #162 Laced Up.
In real life, if people who work at gun stores are about to be robbed, they're going to be armed with their defense items they have in stock.
Segment Nicknames
The Gunfire of Blindness (Spike TV)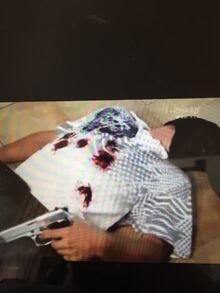 Foreign names
Equivocación Fatal (Fatal Mistake) - Latn American dub
Acribillado por Metepatas (Gunned for being a Moron) - Spanish dub