"Him-Paled", Way to Die #237, is the third death to be featured in "Death, The New Black", which aired on July 18, 2011.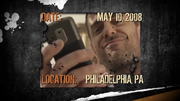 Plot
A jackass pervert named Duncan uses his camera phone to get upskirt photos of women. While standing behind a woman (who is wearing a skirt with no underwear) at a street side coffee vendor, a construction worker see Duncan attempt to take a photo and advert the act, the woman freaks out, and the construction worker standing next to her goes to beat up the pervert verbally.
Meanwhile, another construction worker 8 floors up trips over a sandbag and lets go of a reinforcement bar, which falls from the sky and impales the pervert from his shoulder through his side, impaling his heart, killing him instantly and sending him to Hell.
"Duncan had the def touch of master upskirter. But he wasn't always able to get his shot. On this day, a coffee wagon by a construction site, it was fertile ground. But he had yet to catch the holy grail of upskirting: the no-panties bullseye. But then a woman standing in line looked promising. Why? No pantyline. Duncan was so caught up stalking his naked prey, he failed to notice the brawny construction worker. He was about to get a major ass-whoopin'...until fate stepped in...and took him out."
Cast and Interviewees
Ron Elliott - Duncan (lead: intended victim)
Leland White - Construction Worker (lead)
Eboni K. Williams - Businesswoman (lead)
Thomas J. Peepus - Voyeur
Dr. Rob Shapiro - Surgeon
Trivia
Also called "Rubbed Out" on the Spike TV website.
This features the fourth instance of an interview being kept in shadow for criminal protection and the first of a possible fake name for a voyeur named Thomas J. Peepus.
This is one of 2 deaths caused by reinforcement bar. The others is F.U.v'd.
It is based on the death of Juan Bartolomé. Unlike Duncan, he was a diver and was impaled by a harpoon instead of a reinforcement bar.
Despite the death taking place in Philadelphia, this was actually filmed in Los Angeles, CA.
Segment Nicknames
Foreign names
Vom Himmel hoch (From the sky above) - German dub
Atravesado (Pierced) - Latin American dub
Itan ma barado (Inform of Bars) - Lazoran dub