Way to Die #500
"Ich Bin Ein Stoner"
Name of the death is a pun on "Ich bin ein Berliner" (German for "I am a Berliner") and "stoner"
"In the Dark Ages, people lived in fear of what they didn't understand... Freidrick condemned others to death based on superstition until he got a taste of his own medicine."
Date
October 26, 1384
Location
Cochem, Germany
Episode this death
was featured in
"Eat, Pray, Die"
Deaths
Previous
"Pained Gun"
Next
"Hats All Folks!"
"Ich Bin Ein Stoner", Way to Die #500, is the first death to be featured in "Eat, Pray, Die", which aired on August 8, 2011.
Plot
Freidrick is a witch hunter who just went mad after eating grain with ergot in it. Going crazy, he runs out and causes amok, causing people to think he is a witch. Ironically, he just accused a young girl of being a witch. In his village, the people were extremely superstitious. He would prick the accused person's mole with a needle. If it bled, you are pure, if not, you'd be executed by stoning. The girl got stoned when her mole didn't bleed. Unlucky for Fredrick, his mole didn't bleed, therefore the superstitious people stone him and a rock to the head and gut causes his demise.
Cast and Interviewees
Kai Cofer - Friederick (lead: intended victim)
Janina Washington - (lead: alleged witch)
Dr. Faryl Saliman Reingold - Interviewee (Occupational Therapist)
Dr. Steven Burstein - Interviewee (Interventional Cardiologist)
Alternative Name
Also known as "Witch Hunt" on the Spike TV website
Alternative Description
Description as seen on Spike TV's website:
"An ambitious German cleric accusing a young woman of witchcraft is suddenly accused himself, and is subsequently stoned to death."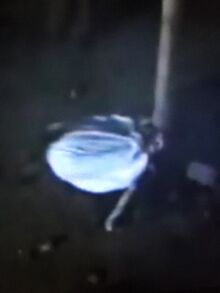 Trivia
Ergot is a poisonous fungus that grows on rye plants. A cause of the execution must be because ergot contains a special chemical that constricts blood vessels and prevents bleeding, making the people believe that Freidrick was "not pure."
Foreign names
ich bin ein apedrejado (ich bin ein stone) - brazilian dub
Segment Nicknames
Community content is available under
CC-BY-SA
unless otherwise noted.