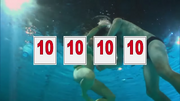 "Muffed Dive", Way to Die #329, is the third death to be featured in "Wait, Don't Tell Me – You're Dead", which aired on August 15, 2011.
Plot
A former Olympic diver named Brandon (Deacon Bray) gets kicked off the national team for abusing drugs, now works as a manager at a municipal pool, where he's more interested in impressing MILFs, single cougars, and middle-aged divorcees than actually doing work. While out on a date with one of his targets, he dives into the pool but hits his head on a floating chlorine dispenser, causing death from head trauma and drowning, leaving the divorcee horrified.
Interviewees and Cast
Glenn Webb - Lifeguard
Dr. Khyber Zaffarkhan - Physical Medicine and Rehab
Deacon Bray - Brandon (lead: intended victim)
Lindsay Marsol - MILF (lead)
Segment Nickname
High Die (Spike TV Website)
Divinate-Dead
Segment Description
"A cocky high-diver uses a closed diving platform to impress his date when a lands head-first on a floating chlorine dispenser." (Spike TV website)
Foreign names
Mergulho Mortal (Deadly Dive) - Brazilian dub
Trivia
Also called "High Die" on the Spike TV website.
This death is similar to Water Logged.