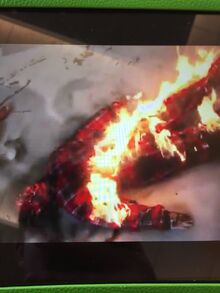 "Onesie & Donesie", Way to Die #396, is the first death to be featured in "Young, Dumb, and Full of Death", which aired on November 9, 2010.
Plot
Chet was a klutzy salesman and pitchman. During their demonstrations, he first injures himself with a folding ladder after it failed to stay sturdy. He then injures himself with a samurai sword after it he hit the table with it. The samurai sword broke and flew a piece into his chest. He spent days in a hospital bed, and was later back on the set selling and smiling. His final product to demonstrate, an adult-sized onesie, caught on fire after he showed off some giveaway aromatherapy candles. He writhed on the floor, without stopping or rolling, and eventually, he perished. A stage man tried dousing him off with a broken fire extinguisher, but had no luck. Chet died due to major burns on his body.
Cast and Interviewees
Rob Ekno - Television Shopping Host 
Jayden Visse - Chet (lead: intended victim) 
Brianna Delp - Woman (uncredited) 
Danny Mokking - Stage Man (uncredited) 
Pavel Bindra - Cardiac electrophysiologyst
Trivia
Two of the incidents are based on actual events that happened to TV shopping network hosts.

The folding ladder collapse happened to Harold McCoo on the Cable Value Network in 1988, although he was unhurt.
The broken sword happened to Shawn Leflar on The Knife Collector's Show on the Shop at Home Network in 2001.

A portion of this segment is displayed at the beginning of Asphyxi-Asian.
This is the second time the narrator makes a reference to FDR's quote from his first inauguration speech: We have nothing to fear but fear itself. (The first one was Booby-Zapped.)
In the dubs by DMAX, Rob Ekno's interview is extended.
Chet's death is similar to that of Flaky's death in Happy Tree Friends episodes, "This is Your Knife".
Segment Nicknames