"Pained Gun", Way to Die #499, is the fifth death featured in "Death Be Not Stupid", which aired on March 15, 2009.
Plot
Luke and Mickey, a pair of high-school rejected boys, film themselves in a YouTube series (called Suburban Slaughter), which consists of them doing various shootings on people (including a drive-by on an old lady with a purse) with a paintball gun as part of a hare-brained plot to become viral video stars on YouTube, not realizing it's just as illegal to shoot with a paintball gun as it is with an actual firearm. When the gun malfunctions, it shoots the canister of CO2 at 200 mph (or 320 km/h) into Mickey's larynx, which breaks his neck and kills him and thus sending him to hell. Horrified, Luke tries to get help... only for the previous victim to catch up with him and start hitting him with her purse.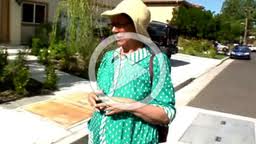 Cast & Interviewees
Junior Sutitanom - Paintball expert.
Eddie Navarro - Luke (lead)
Caleb Pearson - Mickey (lead: intended victim)
Leah Revenge - Old Woman
Segment Nickname
Video Violence
Ball Out
Heads Down
Panic Paint
Foreign names
Muerte Pintada (Painted Death) - Latin American dub
Pintura Dolorosa (Painful Paint) - Spanish dub
Schuss und Schuss (Shot and Shot) - German dub.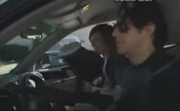 Goofs
Anachronism: Even though this death takes place in 2006, the teenagers were driving a 2nd Gen Toyota Highlander (with the earliest model, the 2008 model year, not produced until May 2007).