"Pam Caked!, Way to Die #179, is the first death featured in "Dead Wrongs", which aired on September 28, 2010.
Plot
Cheerleaders are described by one word: perky. When it comes to Pamela, another word comes to mind: bitch. Pamela gets jealous when a new girl named Amber joins the squad. Amber becomes the new flyer and the star quarterback's new girlfriend after he dumps Pamela for her. During the homecoming game, while Amber is atop the cheer squad's heel stretch formation, Pamela intentionally lets Amber fall. The other cheerleaders come to her aid, as the spoiled cheerleader captain gloats at Amber. Lady Karma finally makes her move as Pamela gets in the way of the banner, and is pummeled/stomped repeatedly by the football team as they run through it, their cleats puncturing her heart and breaking her ribs, killing her, and sending her to hell.
Trivia
This is one of 2 deaths caused by trampling. The other one is Lady & The Trampled.
A similar incident has been videotaped and shown on episodes of the TruTV original series Most Shocking and Most Daring. However, the cheerleader survived being trampled without injury.

This is similar to the death of Korihor.

This death was Runner-Up B in the "Sports Death" category in the Death By Request: Special episode.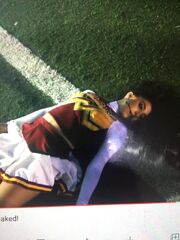 Segment Nicknames
Cast
Courtney Ponce - Pam (Lead: Intended victim)
Foreign names
Pam-queque (Word play on "Pamela" and "Panqueque") - Latin American dub
Pisoteada (Trampled) - Spanish dub
pam-nela (a pun on panela (cooking pan) pamela and nela (at her)
Von den Fußballern Zerquetscht (Squashed by the Footballers) - German dub