"Smoke Stalked", Way to Die #459, is the second death to be featured in "Death Be a Lady Tonight", which aired on July 25, 2011.
Plot
Kate got married to Jared, and hopes her life would be perfect. That is until, Jared's psychotic ex-girlfriend Ashley began stalking them. Over time, Ashley's behavior was overbearing to the point when it was threatening. The newlyweds decided to go on vacation to forget about Ashley's weird behavior for a while. A week later, when they got home, they think something was wrong. Kate sensed a presence. Jared smelled something. He lit a fire in the fireplace. But as soon as the hardwood took flame, the house filled up with smoke. Thinking the flue was stuck closed, Jared reached up and got the surprise of his life. It was Ashley and she's dead. It turns out that while the couple left for a vacation, Ashley decided to break into their house for more mischief. All the doors were locked and the security system was activated, so she snuck down the chimney. But she discovered there was no way out. Ashley screams for help, but no one comes to her aid. She didn't know she had the early stages of dehydration, causing her organs to fail. For seven days of being stuck in there, Ashley died of starvation and dehydration sending the psychopath ex-girlfriend to hell where she couldn't stalk again.
"Thinking the flue was stuck closed, Jared reached up...and got the surprise of his life."
Alternative Description
"A crazy ex-girlfriend dies in a chimney." (Spike TV website)
Cast and Interviewees
Jules Hartley - Ashley (lead: intended victim)
Sena Ramirez - Kate (lead)
Nathan McAlister - Jared (Victim of Crazy Ex-Girlfriend)
Dr. Khyber Zaffarkhan - Interventional Pain Physician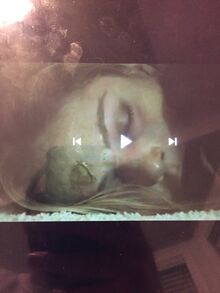 Trivia
In 2010, Jacquelyn Kotarac, who was a physician from Bakersfield, California, died of asphyxiation when she became trapped in the chimney of her boyfriend's home while attempting to break in.
Segment Nickname