"Spit-ill", Way to Die #215, is the first death featured in "Die-abestic", which aired on February 1, 2012.
Plot
Louise is an attractive Southern Belle who is running a kissing booth at a local town charity. She refuses to kiss any of the participants on the lips, only allowing them to kiss her on the cheek. Louise is also stealing the money from the jar. Louise's high school crush, Johnny, soon comes into the carnival, and Louise is quick to make out with him. Johnny had also kept up the habit of chewing on sunflower seeds from his baseball days. Louise winds up dying from anaphylactic shock after suffering a severe allergic reaction from the sunflower seed oil, but not before burning her cheek on a grill, sending this thieving bitch to hell.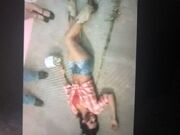 Cast and Interviewees
Sandra Hinojosa - Louise (lead:intended victim)
Dr. Melanie McLeod
Dr. Vyshali Rao
Foreign names
Un mal Sabor en la Boca (A bad taste in the mouth) - Latin American dub.
Babas Toxicas (Toxic Saliva) - Spanish dub.
Todeskuss (Kiss of Death) - German dub.
Alerhia ma sanutan en dratanga (Alergic to Cause of Choking) - Lazoran dub.
Segment Nicknames
Sloppy Seconds
Did Not Succ-Seed