Way to Die #47
"Sumowed"
Name of the death is a pun on "sumo" and "mowed"
Harold was a rich man's son who thought he could coast his way through life, until he put on a sumo suit, fell down a cliff, got hit by a car, and died.
Date
July 22, 2006
Location
Palo Alto, California
Episode this death
was featured in
"Young, Dumb, and Full of Death"
Deaths
Previous
"She-Manned"
Next
"Cardiac-A-Breast"
"Sumowed", Way to Die #47, is the sixth death to be aired in "Young, Dumb, and Full of Death", which aired on November 9, 2010.
Plot
Harold was the son of his rich father. He created a company called Ballzzz and decided to have some fun with his co-workers. He started with a trust fall, but he failed to catch Jen. Then He decided to do sumo wrestling. Harold was in a sumo suit and challenges one of his workers. Overtime in the process, Harold had no idea that they did it on a cliff. Harold falls down the cliff. He survives his crash but winds up fatally hit by a smart car.
Interviewees
Phillip Hersh - Professional Team Builder
Dr. George Fallieras - Emergency Room Physician
Trivia
This death shares its number with Re-Coiled.
It was a fictional death until on June 6, 2012, Dakota Ryman, 15, of Dickinson Twp., was killed while crossing the road in front of his house after retrieving the mail. He was strucked by a smart car.
In the DMAX dubs, Phillip Hersh's interview is extended. He also has an extra interview.
Goofs
Continuity: After Harold got run over, there is no blood on his face. In the next scene, his mouth is covered in blood.
Segment Nicknames
Sumo You Didn't (Spike TV)
Foreign names
Muerte Consumada (Consummated Death) - Latin American dub
Suma Necedad (Pure Folly) - Spanish dub
Sumonado (a pun in sumo and summoned) - Brazilian dub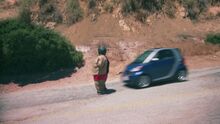 Community content is available under
CC-BY-SA
unless otherwise noted.