Way to Die #176
"Tree Mugger"
Name of the death is a pun on "tree hugger"
Root Dog believed in nature...in the end you can say that nature was...well served.
Date
April 7, 2001
Location
Flathead Forest, Montana
Episode this death
was featured in
"Dead on Dead" (US version)

"Death Bites!" (German version)"

Deaths
Previous
"Dog Dead Afternoon"
Next
"Jack 'n Croaked"
"Tree Mugger",Way to Die #176, is the seventh and last death to be featured in "Dead on Dead", which aired on February 24, 2010.
Plot
A nature enthusiast who calls himself "Root-Dog" chains himself to a tree in protest to it being cut down. He is able to get rid of the men, but he ends up meeting another friend of Mother Nature, a grizzly bear. Okay, maybe not very friendly because this beast of the forest shows up and bites into the Root Dog's stomach and pulls out his intestines. And Root Dog becomes lunch for the bear.
Interviewees
Jules Sylvester - Wild Animal Trainer/Wrangler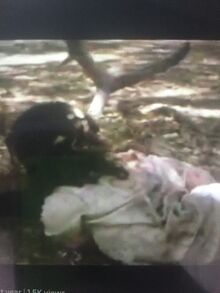 Trivia
In the German version, there is a different image in the deathcard. It is also is the extra segment of "Death Bites!" being the sixth.
In the German version of "Dead on Dead", it is replaced by Dead Me Stallion.
There was a death similar to this in 2002 when a man named Richard Sumner from Denbighshire Wales suffering from Schizophrenia handcuffed himself to a tree and threw the keys away, and he was discovered dead 3 years later.
Segment Nicknames
Foreign names
Bärenhunger (Bear hunger) - German dub
Community content is available under
CC-BY-SA
unless otherwise noted.