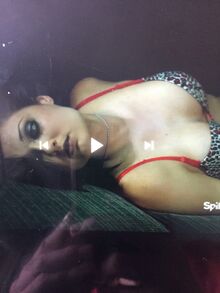 "Tube Snaked", Way to Die #119, is the third death featured in "Today's Menu: Deep Fried Death", which aired on December 8, 2010.
Plot
Tina (Melessia Hayden), an underwear-clad groupie, had just kicked out her rock star ex-boyfriend after his record deal budget falls through. She threw out his belongings. However, he didn't stay long enough to get his pet boa constrictor. The snake almost strangles Tina to death, but she throws the snake on the grass. As Tina went back inside, seeing is how this is the only home it knew, it went back inside through a pipe. However, it parked itself next to the air vent, getting stuck in the process. Carbon monoxide gets produced, killing both the snake and Tina instantly as she was drinking and thus sending the mean-spirited bikini girl to hell she belongs. The recipe for Tina's death included alcohol intoxication and carbon monoxide poisoning.
"The snake was no match for this Medusah. But this was the only home he knew. So he found a way back in. That night, Tina, who seemed to live in her underwear, cranked up the heat, and hit the bottle. Meanwhile, the boa had snaked his way into a warm exhaust vent on its way back into the house. As time passed, Tina began to feel dizzy and nauseous. She thought was getting a good buzz on. But not this time. This time, the low-rent skank staggered around her ghetto pad, toppled over...and died."
Cast and Interviewees
Jules Sylvester - Wildlife Expert
Dr. Kim Henderson - Toxicologist
Melissa Jacobs - Tina (lead:intended victim)
Trivia
Tina's death is similar to that of Handy's death in Happy Tree Friends episodes, "A Hole Lotta Love".
This is one of the few deaths to feature a dead animal.
Alternative Name