Way to Die #323
"Vom-Ate-Dead"
Name of the death is a pun on "vomited"
"Suki was a Grade A 'FREAK!', but in all the deaths we covered in a 1000 ways to die, this one... is the hardest to swallow."
Date
September 29, 2008
Location
Atlantic City, New Jersey
Episode this death
was featured in
"The End is Weird"
Deaths
Previous
"The Chokes On You"
Next
"Bats All Folks"
"Vom-Ate-Dead", Way to Die #323, is the fourth death to be featured in "The End is Weird", which aired on October 19, 2010.
Plot
A beautiful young girl named Suki goes to a hot dog eating competition. The reason for this is that she is an emetophiliac, a person who has a sexually overwhelming desire to be vomited on because a person (an ex-boyfriend) dumps Suki. Her plan is to make the winner vomit on her after the competition. A competitor named Jiro Tanaka wins but is about to vomit. He then goes backstage to vomit, only to find Suki, now stripped down to her Victoria's Secret lingerie. Jiro tries to turn around, but an annoying Suki gets him to vomit on her. She jams her finger down his throat. Jiro violently vomits chunks of undigested hot dogs all over her, but mostly down her throat. He finally finishes vomiting and flees in horror. Suki tries to call for help, but with chunks of hot dogs down her throat, she can't talk or breathe. Suddenly, she then falls to the floor and dies after she chokes in a puddle of her beloved vomit, sending her to hell.
Interviewees
Trivia
This death scene is awarded the "Worst Pervert" in the "Death by Request" Special.
Also Called "One Digit, Two Vomiting People And Death" on the spike website
Many kids have died from hot dog chunks.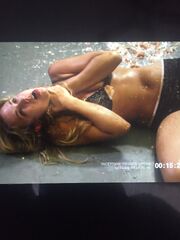 Segment Nicknames
One Digit, Two Vomiting People And Death (Spike TV)
Chunka Chunka Burnin' Love
Foreign names
El Vomito de la Muerte (The Vomith of Death / Death's Vomit) - Latin American dub
Por Vomitona (For being a Puker) - Spanish dub
Community content is available under
CC-BY-SA
unless otherwise noted.